About us
BetBurger was founded in 2014, and since then more than 100,000 professional players from all over the world have used our service.
BetBurger is a surebet finder service. Our software collects odds from over 200 betting lines across 40+ sports including football, basketball, hockey and more. The collected data is analyzed for the presence of arbitrage situations (arbs), and the list with surebets is immediately provided to our clients.
In addition to arbing, we also offer data on Middles and Valuebets. Moreover, our customers not only have access to the Odds Comparison service, but also to a user-friendly surebets Calculator.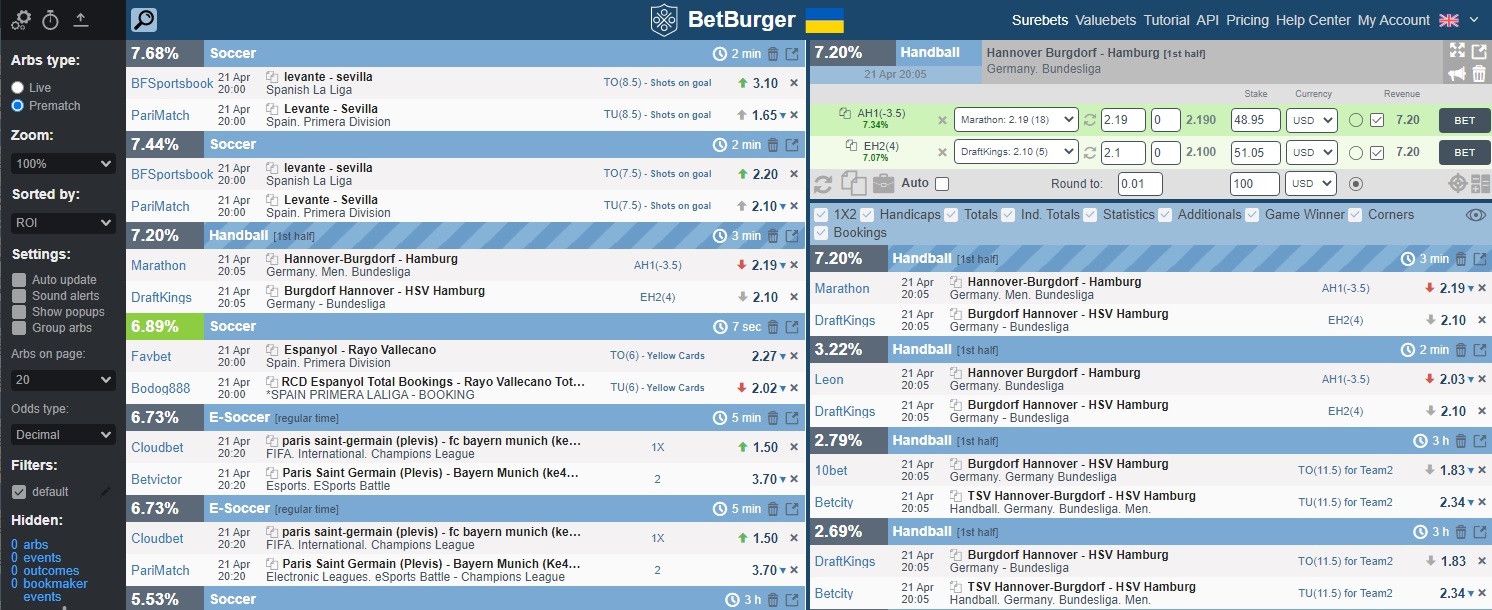 100 000+
safe profit arbs
2014
Project launch
BetBurger had been introduced as a small start-up with limited functionality and a short list of scanned bookmakers and sports. At its launch, the scanner was working in Prematch mode.
2015
Live arbs
Live surebets feature had been added, as well as the list of the scanned bookmakers and sports had been expanded. Opportunities for BetBurger customers to earn more money also increased.
2016
New bookmakers and features
By 2016, our arbing service had already been scanning more than 70 bookmakers in 25 sports in Prematch and Live. Users were also having access to the wider functionality, which included multifilters with the ability to adjust settings, arbs sorting, online calculator for calculating bet amount, and many other features.
2017
Service localization
We started localizing our software that helped us cover new betting markets. At that point in time, BetBurger already supported several language versions contributing to a comfortable environment for Spanish, Colombian, German and Austrian customers.
2018
ValueBet launch
The Valuebet section with access to both Live and Prematch was launched in March 2018. The tool quickly made a name for itself and has been actively used by our customers ever since.
2019
Entering the Asian market
The decision was made to enter the Asian market. China was number one on the list. Our team faced certain obstacles, including language barrier and restrictions which the Chinese market implies. But in half a year we started receiving our first customers, and eventually China has become one of the top countries.
Our software got replenished with various new bookmakers and sports. And by 2019, our arbing service had already been analyzing more than 100 bookies in 30+ sports. The Valuebet section was considerably improved as well.
2020
eSports and REST API
Due to the SarS-Cov-2 pandemic, nearly all sporting events were terminated, and we agreed to focus on eSports. That enabled us to expand the range of sporting events, giving the chance to make money in times of crisis.
The year 2020 was also marked by several major developments: the design of our website was partially amended in July; REST API became available in December, thereby enabling our customers to create their own bots for surebetting and valuebetting.
2021
New payment methods and streamlined layout
In 2021 we started accepting bitcoins through the BitPay payment system, offering our customers more payment options.
Surebet and Valuebet layouts were streamlined, resulting in much more convenient use of our product on mobile devices.