Today we're going to tell how to set up direct links to bookmaker websites via Bookmakers tab.
Bookmakers tab and its settings
If you have already dealt with our service, you probably noticed the Bookmakers tab in the customer's personal account. This section presents bookmakers scanned by the service and their clones (sportsbooks that use lines of other bookies in their work).
In order to see a list of all available clones - you need to set the "On" mode in the "Show clones" field.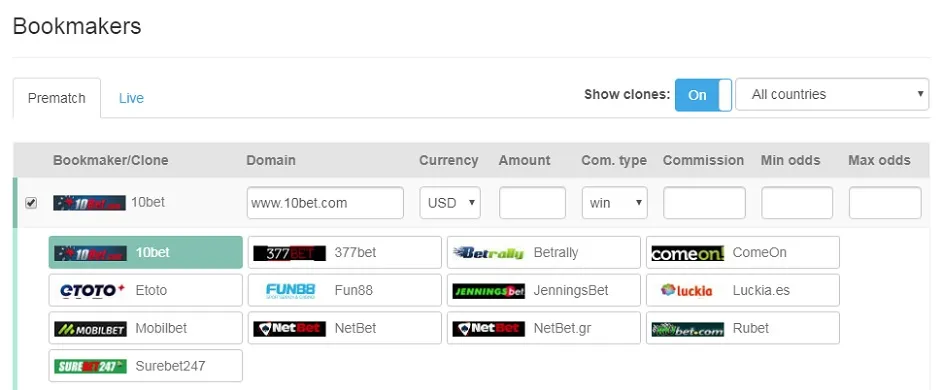 Once you select a bookmaker or its clone, you can enter an alternate address for it in the Domain field.
It should be noted that it is possible to fill in domains with "www" and without. If you're not redirected after you have entered an alternative address – try to use it with www or vice versa.
Important: after selecting a bookie/clone or adding an alternative URL for the bookmaker – you need to save changes by clicking on the appropriate button at the bottom of the page.
The section with bookmaker settings is divided into two tabs (Prematch and Live) for the convenience of our customers.

In each of these tabs you can specify alternative addresses and choose bookmakers for arbing on Prematch and Live accordingly. In addition, you have the possibility to specify the account currency, commission, as well as min and max odds for each bookmaker.
Important: direct links from the scanner will be carried out only for those URLs that are spelled out on the relevant bookmakers. This applies to navigation both through tabs (without plugin) and windows (with plugin).
If you use our Arb Helper plugin for direct links, after its installation it's extremely important to refresh the arb page so those bookmaker settings are synchronized with the plugin (including URLs).
Exchanges tab
Here everything is similar to the Bookmakers section, the only thing you need to enter alternative addresses for betting exchanges, not for bookies.
There is also a division into Live and Prematch tabs, and the possibility to tune up additional settings (commission, account currency, min/max odds).

By the way, if we talk about the account currency, it is entered by default for the arb calculator in the Bookmakers and Exchanges tabs. What concerns commission, it can be specified in two types: with a bet and win. The commission with a win is usually charged by the betting exchanges, and some bookmakers take it from the bets (e.g. Interwetten).
At last, we'd like to point out that you may try to enter mobile addresses of bookmakers/betting exchanges – some of them also carried out. For example, this option is implemented for 1xbet.
Conclusion
As you can see, the functionality of the Bookmakers tab allows specifying the settings for bookmakers you use, and thereby improve the quality of getting the arbs, as well as the efficiency of the direct link option.