Obviously, each and every arber wants to go only with a slam dunk to secure reasonable profit, and the easiest and the most predictable kind of sport is constantly being sought in the sports world.
The article would dwell on the sport that is the easiest to predict. Logically, the pick is made by the arber so the choice is individual, but we'll try to consider the situation from different angles.
Individual or team sports?
Most newbies believe sporting events to be only team competitions. In fact there are individual sports too. Let's figure out each type to come up with the benefits.
Team sports
Team sports presuppose competition between the teams like in football, basketball, hockey, volleyball, handball, etc.
The advantages include:
wide betting line selection;
frequent lineup rotation to enable forecast manipulation.
Individual sports
Individual sports involve two competitors opposing each other as it happens in tennis, athletics, figure skating, boxing, etc.
Major benefits:
an easy way to track the current condition of the opponents;
high odds;
Comparison and insights
It's way easier to learn the possibilities and statistical indicators of the opponents when doing the same with team sports may only tangle you up given too much information. At the same time, individual sports have no extensive betting line leading to the limited bet selection (except for tennis). Either way, it's much easier, especially for newbies, to predict singles competitions.
Sports: popular or uncommon?
Some gamblers can't even imagine the diversity of sports existing in the betting sphere, and bookmakers usually provide a decent line, compelling outcomes and high odds. That's rather engaging for non-experts who occasionally go into predicting some unpopular sports like netball, kabaddi, or air hockey.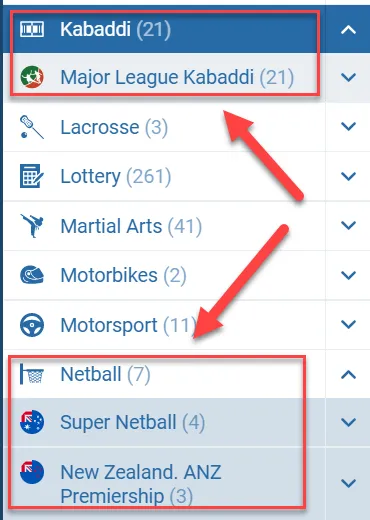 Such exotic sports are barely worth the attention if one knows nothing about them. If you stick with the bookmaker odds (especially when they as well have no idea how the sport works), it appears really easy to blow all your bankroll. A better solution would be to wager on the most predictable sport ever which is football.
Building on many years of experience, it's safe to say that football is quite easy to forecast for several reasons:
Common sports have more statistical information for analysis.
Betting line of some uncommon sport is far more meagre than the line of any other popular sport.
Sportsbooks are frequently wrong about the odds for exotic sports, and gamblers nearly always follow those odds.
If you're asking yourself which sport is better to choose - then stick with the common one you definitely know how to handle.
Football - favorite sport for sports betting
Football competitions are an integral part of sports betting being the major worldwide bet supplier. Anybody would find something to place a wager on, considering the matches are taking place every single day.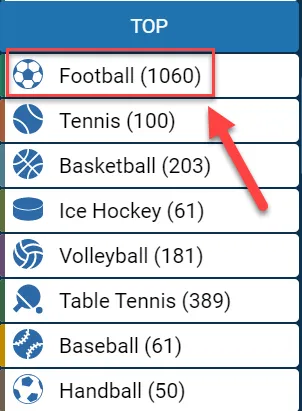 Statistically, a little under 45% of the total number of deals were made for football in the past couple months. Those bets amounted to about 40% of the overall volume of betting market funds for the last several years.
The total financial volume of bets across the sports:
football – 38%;
tennis – 25%;
other sports – 14%;
hockey – 10%;
basketball – 8%;
volleyball – 5%.
As shown by statistics, football is way ahead of the competitors. You would ask why? It's a piece of cake, football is just the most predictable kind of sport in sports betting. Plenty of wagers on statistics, analytical information, and even off-team news can be found on football.
The overall popularity of football is intensively growing due to sponsorship contracts with clubs and football celebrities, and integration of bets specifically into the game, which generates lots of exciting offers so far:
How many shots+penalty would Ronaldo score?
How many months would Ancelotti hold the position of head coach of Real Madrid for?
How many red cards would Sergio Ramos earn per season?
Another indispensable feature of football worldwide betting popularity is a wide betting line. Nearly each match has lots of wagers, and not just trivial bets on outcomes or handicaps. An enormously wide selection is offered for the UEFA Champions League, the European Championship, the World Cup, etc.
This all resulted in the total amount of bets for football virtually equal to all other sports.
Summing up
Each gambler would have his own most feasible kind of sport far from all pros in football or tennis. It's crucial to think straight about your skills and rest your beliefs in your knowledge and experience. However, one can win on any sport with BetBurger. The tool analyzes betting lines of over 100 sportsbooks for surebets and valuebets. Secure your profit with sports betting. Don't miss your chance and start working straight away!