No limits. No delays.
Unlimited Surebets
With BetWasp PRO, you can bet on all available surebets without profit caps or delays.
Prematch
prematch
Unlimited Surebets
Enhanced functional:
Surebets
Prematch comparison service
Middles
Negative surebets
Accounting
Sorting by ROI
Live
live
Unlimited Surebets
Enhanced functional:
Surebets
Live comparison service
Middles
Accounting
Prematch + Live
prematch & live
Unlimited Surebets
SUREBETS: Gain profit on every bet you place
We give thousands of people all over the world an unfair advantage of knowing what bets to place to win every time, no matter the sport or the game outcome.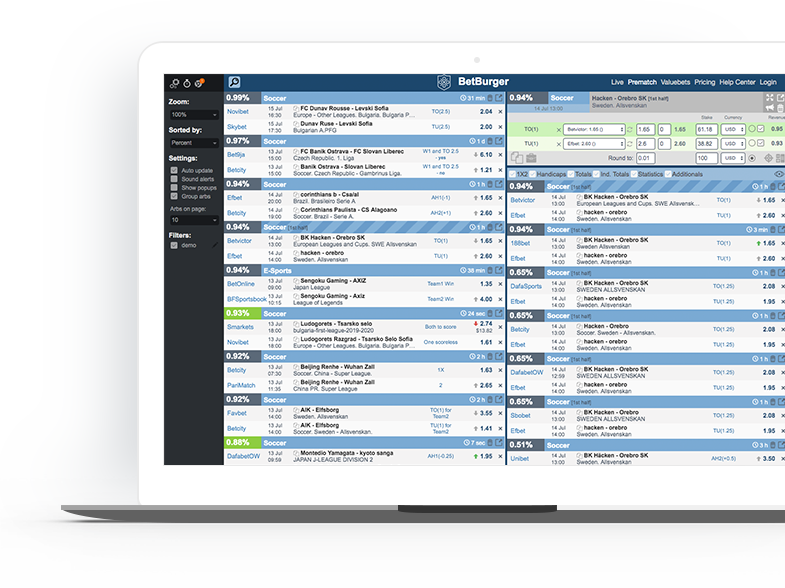 Every minute,
we scan 80+ bookies across dozens of sports to find the most lucrative opportunities on the market, all there for you to take. We do all the heavy lifting, and all you need to do is log in, place your bets, and reap your profit.
Try for free!
Surebets up to 1%
Only core functionality
Prematch delay of 15 minutes
Live delay of 1 minute
Register today and get full access to the core functionality with limits. You'll see the betting opportunities, but your profit potential will be limited by 1% of your total bet amount, and the opportunities will be presented to you with a delay.
For unlimited access, check out the paid plans below.
Try for free
Included in all plans
All markets:
1X2
Handicaps
Totals
Individual totals
Statistics
Additionals
Game Winner
All sports:
AFL
Am. Football
Badminton
Bandy
Baseball
Basketball
Beach Soccer
Beach Volley
Biathlon
Boxing
Chess
Cricket
CS:GO
Curling
Darts
Dota 2
E-Basketball
E-Soccer
Field Hockey
Floorball
Formula 1
Futsal
Gaelic Sport
Handball
Hockey
Horse Racing
Hurling
Kung Volleyball
League of Legends
Martial arts
MMA
Netball
Other E-Sports
Rugby League
Rugby Union
Snooker
Soccer
Squash
Table Tennis
Tennis
Volleyball
Water Polo

BetBurger is rated 9.5/10
by the experts at ArbUsers
"for me betburger is way better than [competitor], I found [competitor] pretty useless… Im happy with betburger"
"betburger is probably the best service"
"I`m trying [BetBurger], it`s a really good tool even if my bookies are few"
Frequently Asked Questions
I'm just starting out. Which subscription is better for a newbie like me?
Prematch subscription is highly recommended for people new to arbing. Once you learn the ropes and feel more comfortable, you may try out the Live subscription, too.
Can I try the product for free before I pay?
Yes, the limited version of our core service is available for free. All you need to do is
create an account
. You'll get access to Prematch and Live, but you'll only see the surebets limited to 1% profit with a delay (5 minutes for Prematch and 60 seconds for Live).
What's the difference between Prematch and Live?
The Prematch subscription allows you to access surebets for future games. Once you buy the Live subscription, you're going to access the bets for real-time, in-play events. The Live product is intended for experienced arbers who already know what they are doing.
When will my account be activated?
Usually, your account is activated instantly. In case your payment is made through VISA or MasterCard, the procedure may take a couple of hours. If you're waiting for your account to be activated, we highly recommend checking out our
Arbing Academy
, a free resource teaching you how to become a better arber.
No limits. No delays.
Unlimited Surebets
With BetWasp PRO, you can bet on all available surebets without profit caps or delays.
Prematch
prematch
Unlimited Surebets
Enhanced functional:
Surebets
Prematch comparison service
Middles
Negative surebets
Accounting
Sorting by ROI
Live
live
Unlimited Surebets
Enhanced functional:
Surebets
Live comparison service
Middles
Accounting
Prematch + Live
prematch & live
Unlimited Surebets