No wonder there are quite a lot of strategies for over-under betting online as bookmakers from all over the world accept bets for totals. Total Over is rather popular with professional gamblers, however, we're about to unfold the essence of betting on Total Under, which is just as good, being easy and clear in use.
What is Total Under?
Total in the given context literally means the amount. Total Under bets are deals for the number of goals that are under certain scores. The gambler anticipates fewer outcomes of the event that are indicated in the brackets (TU 2.5, TU 1). Aside from that we suggest you read what the individual total is.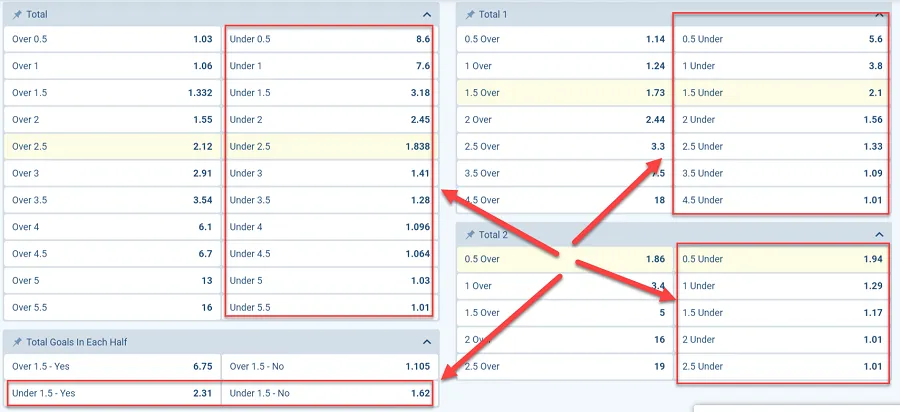 And it's legitimate to expect TO to be more popular as psychologically, it's much easier to worry about the number of goals rather than the lack of them. Besides, every TU strategy implies the end of the event, as the deal is only calculated after the end of the regular time. And that's the reason why in-play gamblers usually prefer betting TU.
When figuring out the way with betting totals, it's crucial to see the difference between TU 1.0 and TU 1.5. The odds on the first deal would be much higher as it has more potential outcomes. Both bets would lose if the game ends with 1 goal scored, but would win if there are no scores at all. TU 1.5 wins when 1 goal is scored, and TU 1.0 would lead to a void.
The odds for TU are highly diverse (from 1.0 to 200+). It all depends on the event and the kind of sport. A big part of total strategies exclusively relate to football, especially goal bids. And that is why we're going to get a deep dive into some football examples to see the concept more clearly.
TU 3.5 example
This strategy is less popular in football given the fact that the odds are far from being high. But anyway, newbies are actively applying it in betting.

It's usually used to mitigate risk and boost your chances of winning. It's a piece of cake to find a proper match, but you'd have to sacrifice the odds as it's hardly possible to catch odds over 1.5 for top events. Due to low prices, gamblers usually include TU 3.5 in the parlay bet.
Check out some tips to help you score:
Avoid betting high-stake competitions. It's way better to stick with 'closed' championships: La Liga, Super League Greece, Russian Premier League, etc.
Pick up opponents with robust defence. This way there are more chances of a goalless outcome.
Avoid high-impact competitions. If at least one of the teams scores 3 goals over the game, there is a high risk of a failure.
Carefully review team meetings. Even low performers are able to score a great deal of goals in a derby or any other notable competition.
Don't bet on friendlies. In such meaningless matches teams may play 'without defence', honing their skills. What's worse is that the coach may even put a reserve team in the game.
Analyzing competitions correctly, the success rate of your bets should be over 50%. The rate may increase if you hedge your bets with TU 4 or 5 (but the income may decrease).
TU 2.5 example
The fans of Total Under are commonly betting TU 2.5. No wonder this strategy is so precisely outlined. Here are some key points:
Scored/missed goals. Don't count high-impact or weak-defence teams. The average performance should not exceed 2.5.
The ongoing team performance. Examine the actual physical and mental performance of the opponents. A long series of failures may have a dreadful impact on the upcoming match.
Review team meetings. Check out the statistics of team meetings as some football clubs may play on 'total under' or 'total over'
Issues within the team. The coach being fired, a conflict between the players, the non-payment of salaries and so on. Any difficulty may seriously affect the game.
The game status. No point in betting test matches. Pick only official fixtures. Furthermore, both teams should be motivated. Otherwise, a flurry of goals is expected.
Low-impact championships. You can bet on all tournaments but better review the championships where less goals are scored. It refers to La Liga, Super League Greece, Ukrainian Premier League, Russian Premier League, and Serbian SuperLiga.
Weather conditions during the match. Heavy rain, snowstorm, heat or freezing conditions may have a major impact on performance.
Bookmakers often provide high odds for TU 2.5. On average you can count on 1.55 – 2.15. The lower are the odds, the higher is the probability of the worst-case scenario. That is why you should avoid betting high prices. It's better to stick with 1.7-1.8.

So in the long term you can expect to succeed in less than 75% of cases. This can be achieved with well-selected events. Much success is not the case with this strategy, that's for sure.
TU 1.5 live example
This strategy is far from being popular but lots of gamblers like using it. The popularity of TU 1.5 follows from high odds and a possibility to bet on live events. Particularly risky are those who manage to succeed with TU 1.

The concept also applies to prematch. However, you should thoroughly look for events between low-profile teams. And that's why it is mostly used for live betting to prevent long lasting searches. And more importantly, you can apply the Martingale strategy in live if the bet fails. The algorithm is quite simple:
bet on low-impact championships;
try betting exclusively ТU 1.5 for the first half (second half typically involves more mistakes due to exhaustion);
events with odds no less than 1.35 (best option is 1.6-2.0);
if the teams hit TU 1.5, we double the next bet (martingale).
Recalling the experience of professional gamblers, here come a couple more tips for the TU strategy:
an excellent option – betting 10-15 min before the first half ends when the favorite is ahead;
a good option – betting 10-15 min before the match ends with a tie;
hedge your bet if you're not certain about it (wager on TU 2 or 3).
When carefully deciding what you're wagering on, TU 1.5 may be rather beneficial but only for live betting. Prepare for a long drive to have a fair chance of success.
Summing up
As repeatedly stated, much headway can be made over the long term when all recommendations are met. Although, don't count on safe profit with each bet as it's only possible with surebets.