As of today, there are a lot of different sports betting strategies, but only a few of them are really in demand. One of these strategies is Total Over. Many players prefer betting on Total Over, as they expect to see a spectacular and interesting game.
This material reveals the Total Over betting strategy. This system is on the up and up among bettors due to its clarity and ease of use. Moreover, such bets are accepted by all bookmakers.
Symbols used in the article
ТO — Total Over;
ТU — Total Under;
IТ — Individual Total;
0.5, 1.0, 1.5, 2.5, 3.5, etc.— bookmaker odds designation.
Total Over in Sports Betting
The combination Total Over has a fairly simple explanation for sports betting. Total Over means a bet on the number of points over the selected one (goals, corners, sets, cards, fouls, etc.). By the way, we'd advise you to familiarize yourself with the Individual Totals concept as well.
The total betting strategy is most commonly used in football, particularly on the number of goals scored. For example, a TO 0.5 bet means that teams will score one or more goals overall. At the same time, a TO 1 bet also means that at least one goal will be scored. However, in the case of just one goal, the bet will be calculated with odds of 1.0 (bet refund).
In that case, the bet is calculated not after the end of the half/match, but immediately after a successful upshot.
There are several types of Total Over bets in football:
regular total (ТO 1, ТO 2.5);
Asian total (ТO 1.25, ТO 1.75);
3-way total (ТU 3.0, ТO 3.0 - total with three outcomes).
To place a bet on totals, you just need to find the appropriate section in the bookmaker, which is usually highlighted separately due to their great popularity.
Strategy Description on Total Over 0.5, 1.0, 1.5, 2.5, 3.5, 4.5
Whilst betting on Totals Over is in high demand, many gamblers also use a variety of strategies to boost their chances of winning. Let's take a closer look at the most popular strategies based on football betting as an example.
Total Over 0.5
Football matches rarely end without scoring goals, but it is definitely not worth mindlessly betting on TO 0.5.Carefully approach the choice of matches even with such a small total, otherwise, you may fail. Furthermore, TO 0.5 odds are rarely higher than 1.25, so it will not be so easy to beat back one loss.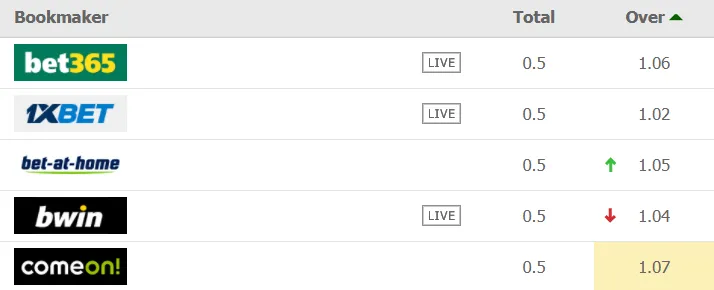 The Total Over 0.5 strategy is aimed to find matches in which opponents as a rule play effectively. Most bettors use this strategy for live due to the juicier odds. Here it is important to carefully monitor the progress of the match and pick up high odds in time.
Total Over 1.0
Total Over 1 bets are made according to the same standards as TO 0.5.The only difference is that the teams need to score 2 or more goals to win the bet. In case of one goal, the bet will be settled using odds of 1.0.

The advantage of the strategy is higher odds, but it should be at least two goals to win the bet.
Total Over 1.5
The Total Over 1.5 betting strategy was described in the early 2010s and has not changed much. Each bettor can certainly adjust the system to suit their needs, but the essence of match selection is the same:
Choose the high-scoring championships. The most suitable are the championships of the Netherlands, Germany, Belgium and Australia.
Do not pick up too low odds. The optimal odds are 1.35 or higher. You should not select odds less than 1.2 but wait for higher live odds.
Avoid matches with championship leaders. It is better to bet on teams from 5 to 10 spots in the standings, since such clubs play freely among themselves, while cautiously against the leaders.
If you think that TO 1.5 odds are too low, then TO 2 bets would be perfect for you. In fact, the risk remains the same, but the odds would be much higher.

In the case of correct analysis and selection of matches, the Total Over 1.5 strategy can bring income only in the long run. Based on the practice of professional bettors, you should not expect success in more than 70% of cases.
Total Over 2.5
It is the bets on Total Over 2.5 and Total Under 2.5 that are the basic bets in sports betting. Bookmakers often set equal odds on such outcomes, and almost all championships and tournaments are suitable for making such bets. Bets on TO 2.5 (and sometimes TO 3) are particularly popular, because it is psychologically easier to expect an abundance of goals than their lack.

TO 2.5 strategy is based on the following key points:
Choose matches in which at least one of the teams has scored at least two goals in the last three or four matches.
Do not wager with odds less than 1.7.
Do not choose matches in which one of the teams will be satisfied with a draw.
If you choose and analyze the matches correctly, you can expect the passability of bets higher than 50%. Given the acceptable odds (1.8-2.0), this strategy can generate income in the long term.
Total Over 3.5
The Total Over 3.5 strategy has no much difference from the previous one, except that odds and number of goals should be higher. The basic requirements for choosing a match are the same, the only thing is that you need to pick up a team that has scored at least three goals in the last three or four matches.

With a proper approach to the choice of outcomes, one can be expected to succeed in about 50% of cases. This figure is satisfactory, but the bettor is unlikely to be able to make a decent profit.
Total Over 4.5
Few betting enthusiasts dare to bet on Total Over 4.5. Even professional gamblers try to avoid bets above TO 3.5, as 5 goals per match is not such a common event in football. In turn, bookmakers often offer overstated odds on TO 4.5, since such events are not in demand.

There is no unique strategy for betting on Total Over 4.5, however, check out some tips:
examine statistics of the home and away teams;
choose teams that have the same level of goals scored and conceded;
do not bet on matches that take place in bad weather;
try to pick up matches from high-scoring championships (Netherlands, Belgium, Switzerland).
Bets on Total Over 4.5 are practically unsuitable for football, except that a clear favorite accepts an outsider at home field. It is much logical to place such bets in hockey, where 5 pucks is the common outcome.
Summarising
Betting on Total Over can be advantageous in the long run, however, you should not expect high profit. Furthermore, if you approach the selection of events incorrectly, you can waste your bank even if you use a TO 0.5 strategy.
Betting on totals is better at a time when the high performance of the upcoming match is clearly visible. But it is important to understand that there is no strategy for Total Over that guarantees a 100% win, unlike the same bookmaker's surebets that generate income for any outcome of the event.