Estamos entusiasmados de anunciarles que, de ahora en más, nuestros clientes de España tendrán la opción de autorrenovación disponible. Esto significa que ya no tendrán que preocuparse por hacer el pago de nuestros servicios en una fecha específica; la cuota necesaria se deducirá automáticamente y en el momento perfecto.
Puedes activar la opción de autorrenovación al comprar cualquiera de los planes específicos de surebets o valuebets*. Tengan en cuenta que, si más adelante se arrepienten, podrán desactivar la opción cuando lo quieran en la página Panel (Dashboard) de los ajustes de su perfil.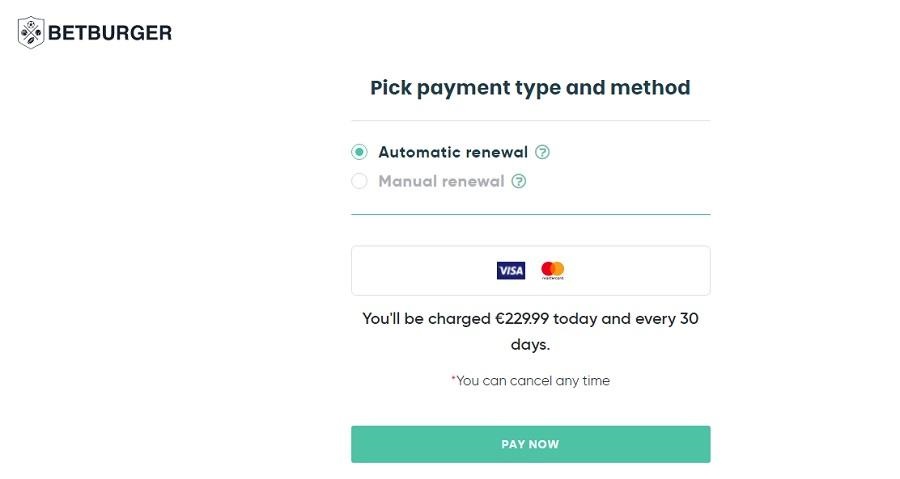 * La opción está disponible actualmente solo para realizar pagos con Visa/MasterCard.
Si tienen alguna otra pregunta, pónganse en contacto con nuestro equipo de asistencia; estaremos encantados de ayudarlos.
__________
We're pleased to announce that our Spanish customers have the option of auto-renewal available from now on. This means that you no longer need to worry about timely payment for our services - necessary fees would be deducted automatically just on time.
You may activate the auto-renewal option when purchasing any of the particular plans for surebets or valuebets*. Please note that in case you change your mind in the future, you are free to deactivate the option anytime on the Dashboard page in your profile settings.
*the option is currently available for payments with Visa/MasterCard only.
If you have any further questions, please get in touch with our support team. We are always happy to assist.