Live Arbs Tips
One has to know how to correctly work with live arbs to get a maximum profit with a minimum risk. Let's consider some pros and cons of live arbing to have a better understanding of what we're dealing with.
Live arbing pros
1. More "fresh" arbs
Odds are changing very rapidly because of great number of events on live. Consequently, the number of "fresh" events is much bigger than on prematch.

2. More profitable arbs
Arbs higher than 10% are very rare n prematch. Even if they occur, it may be a simple mistake of a bookmaker which may result in your stake being returned. What concerns live, arbs with 10% and more are pretty common.

3. Less risk
Bookmakers have no time to analyze your stakes as odds are changing very quickly on live. It means that you have less risk to be identified as a gambler. Therefore, you have less chances to be limited by the bookie on live than on prematch.

4. Rapid bankroll return
The only thing you have to do is sit and wait until the match ends to know if you have won. Which means, you may play one and the same bankroll several times a day. It'll bring you much more money than on prematch.
Live arbing cons
1. Short arbs "life"
The odds are changing so rapidly that you don't have time to think - you have to calculate stakes and bet immediately.

2. Risk not to take the bet
In soma cases, arber may make a bet only on one shoulder of the arb. The reason is odds change at the other bookie: scores, penalty, favourites change etc.

3. Bookmakers rules difference
Rules may differ depending on a bookmaker. Therefore, before making a bet one has to thoroughly go through the bookmakers rules. It will help to avoid issues and mistakes.

It's easy to handle live arbs cons in case you follow our recommendations. Specially for you we have prepared some useful advices to minimize your risk and maximize profit. Check out our tips before betting live arbs.
Set your live arbs filters
First what should do a newbie is to set his live arbs filters correctly:

1. Select from 2 to 5 bookmakers. Go to your Account => Multifilters => Live => Edit:

You will go to the Edit filter page and select the needed bookmakers from the list recommended for newbies: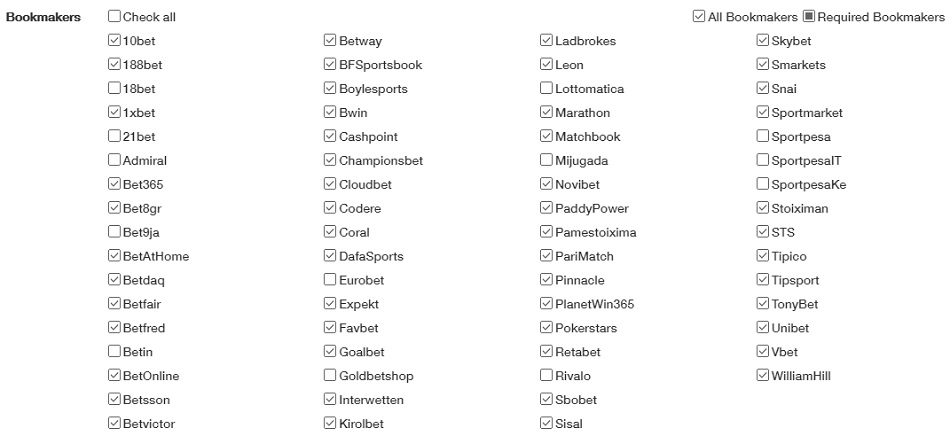 2. Determined with bookies, select several kinds of sport to work on live:

Starters are recommended to play soccer and hockey, as there are less events there comparing to basketball, volleyball or tennis. Consequently, the odds are changing less frequently.

3. Select 2Way arbs. They're much easier to bet. Therefore, tick on 2Way arbs (number of outcomes) on the filter page to ease your work:

Some useful tips
1. Start with small stakes. It will help you to get some practice and avoid big losses in case of failure.

2. You may encounter with different rules of accepting and calculating a bet at various bookmakers. That's why you have to learn the rules before gambling.

3. Avoid betting on the last minutes of the game, set or match. Lots of bookies close the line 3-10 min before the competition ends. Consequently, you have a risk not to bet in time as a line at the other bookie would be already closed.

4. Quite often arbs appear in the end of the first time on TO/TU. You have to understand that first you have to bet on TU at one bookmaker and then on TO at the other. But here we have an undertone - you risk to lose all your money if you can't make it with TO.

5. If you haven't time to make bet at one of the bookmakers, you may use "adjacent odds" option. You can select another bookmaker from the popup window with appropriate odds and manage to bet in time.

Conclusion
Setting your filters correctly would help you to search for the right live surebets. Moreover, following our tips, you'll keep yourself from common newbies' mistakes.
Anyway, you do not have to take all the advices too literally. We only give some recommendations to ease your work as a live beginner, and you may tune your filters as you wish. Good luck on live arbing!