What is surebet?
Surebet (or Arb) is a situation in sports betting that occur due to inconsistency in the odds of different bookmakers, and leads to a bettor's win regardless of the outcome of a sports match.

[!] In this article, the terms "Surebet" mean the same thing as the term "Arbitrage situation". These are equivalent concepts.
How Surebets Appear in Sports Betting
Surebets appear due to the difference in odds for the same event at different bookmakers. There are several reasons why the difference in odds occurs.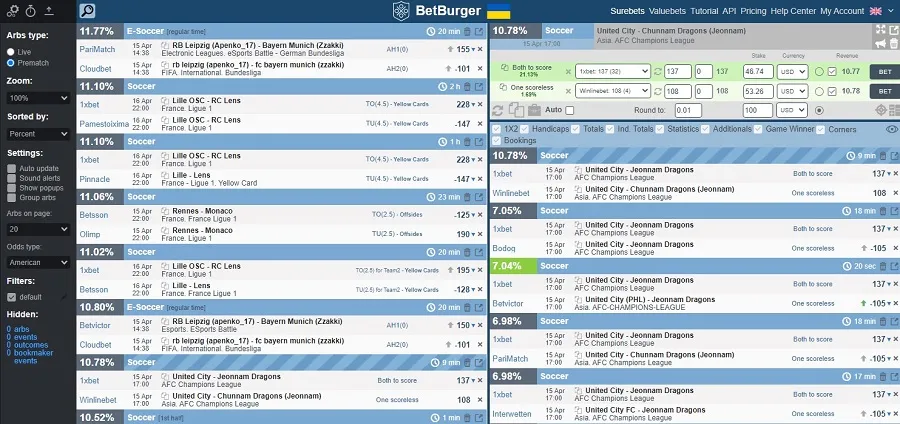 The main reason for the appearance of surebets is competition between bookmakers. Any bookmaker wants to get as many customers as possible, because. This leads to higher profits. It is for the growth in the number of customers and profits that bookmakers try to set a better odds than their main competitors. But this is only one of the reasons.
All Main Reasons For The Surebets Appearance
Competition between bookmakers. Due to the competition between bookmakers, some of them set higher odds, which leads to increasing the number of bettors and also to the appearance of a surebet.
Odds update delays. Bookmakers try to exclude the possibility of surebets. But it is very difficult to implement technically. Some bookmakers do not have time to update their odds on time, which leads to surebets. Most often this happens in Live mode.
Market imbalance. If there are too many bets on one of the outcomes on the market, bookmakers change its odds. Thus, there is a possibility of an underestimated odds, which will lead to a surebet.
Mistakes. Bookmaker may make simple mistakes in setting the odds, eg. 14.3 instead of 1.43. But such odds, as a rule, quickly correct, and bets are returned.
Types of Surebets
There are two types surebets that work differently:
Premach — surebets that arise due to the differences in odds for the same event before the start of this event. They are easy to detect and independently calculate using a well-known formula. However, Prematch surebets are most often noticed by the bookmakers.
Benefits of Premach Mode:
A large number of sports events that you can bet on. Hence a large number of possible surebets.
Odds change slowly, so Prematch mode is easy even for beginners.
Live — surebets that arise at real-time events. Such sure bets are quite difficult to detect from the side of bookmakers, so they are considered to be the safest. Trying to search for surebets in Live mode independently is not recommended, as you simply will not have time to place a bet due to the rapid odds change. It is better to use the BetBurger surebet scanner.
Benefits of Live Mode:
A great number of surebets with high profit (10-15%).
Odds often change, which leads to the appearance of new surebets.
Lower probability of being detected than in Premach mode.
Bankroll returns quickly.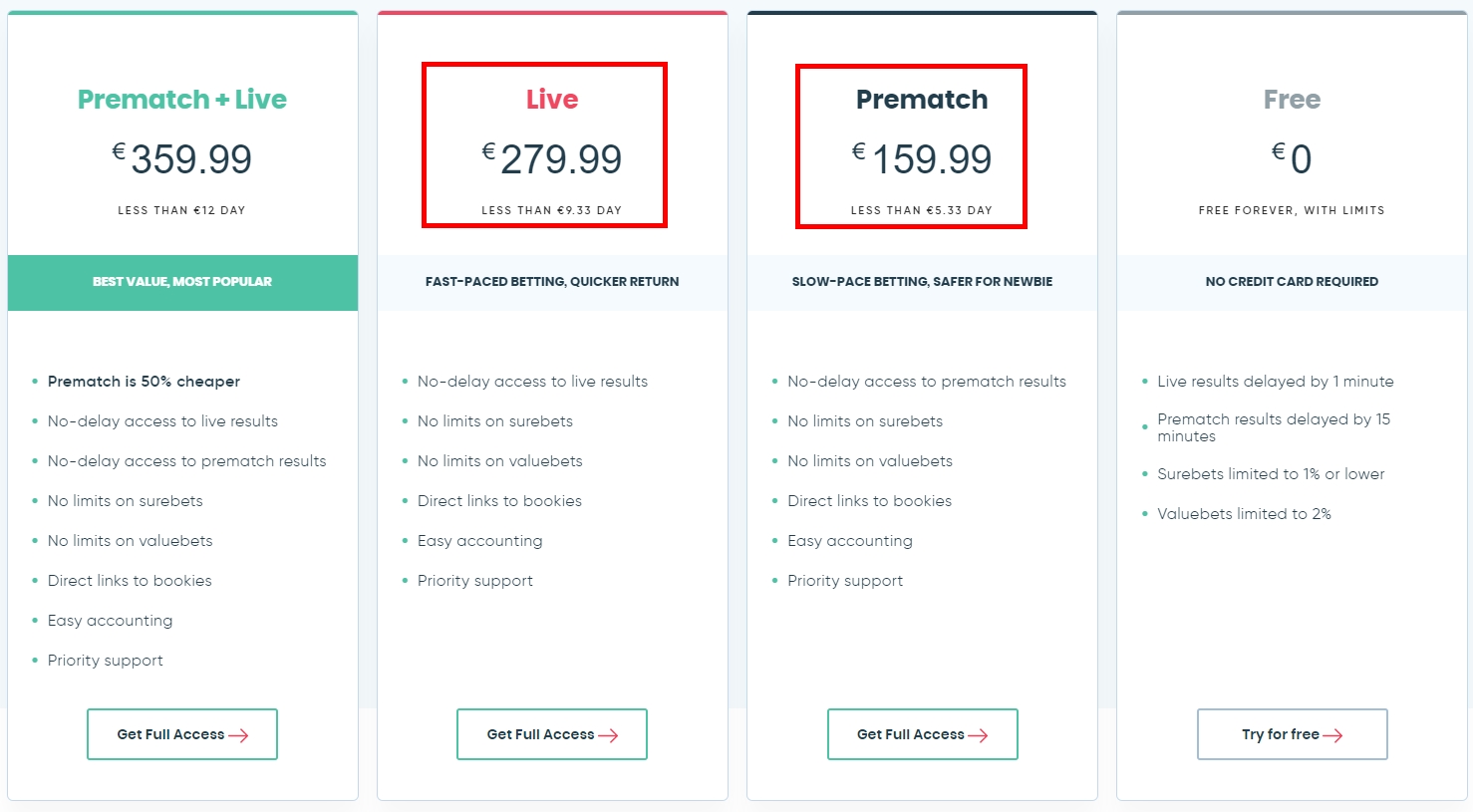 The Main Differences between Prematch and Live Surebets
Prematch surebets are placed before the event (match, race etc.). On Live it's a bit different; you have to bet during the ongoing competition.
In Prematch odds are changing much slower than Live ones. Therefore, newbies are advised to start from Prematch surebets as it's easier to make it on the required stake.
In Live one may find more profitable arbs than in Prematch. This is due to the fact that bookmakers don't have time to keep track of all the odds in Live mode. As a result, there are a lot of overstated odds, and one may calculate a large number of profitable Live arbs.
In Live it is pretty hard to identify you as an arber, as bookmakers have no time to analyze your stakes. Accordingly, the risk of your account to get limited is much lower.
Bankroll return and profit growth in Live mode come much more rapidly than in Prematch. All you have to do is to wait till the match ends and get your money. In Prematch you will have to wait until the match starts and get your earnings only after a couple of days.
How To Find a Surebet — an Example With Formula
As an example for calculation, let's take a hockey match between two teams Team 1 and Team 2 with the following odds offered by 2 bookmakers Bet365 and William Hill:
| | | |
| --- | --- | --- |
| Team 1 | Bookmaker | Team 2 |
| 1,22 | Bet365 | 3,7 |
| 1,44 | William Hill | 2,89 |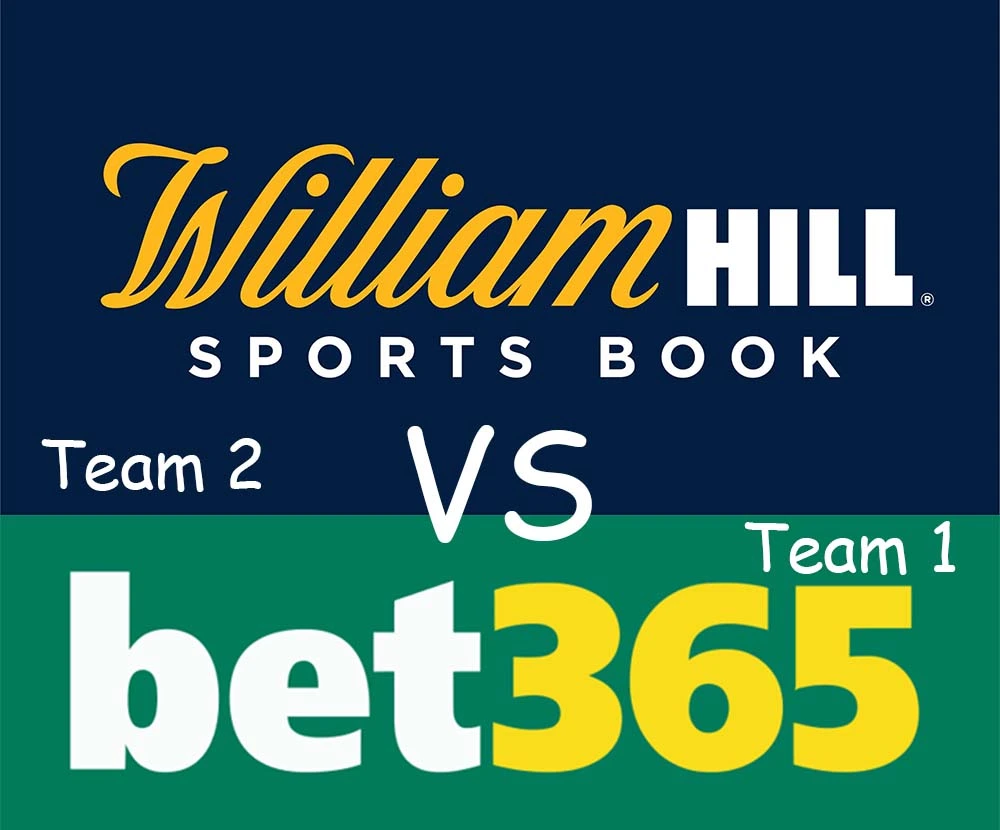 1.Let's Calculate the Inversion (L) For All Possible Results:
Bet365: L = 1 / 1.22 + 1 / 3.7 = 1.089
William Hill: L = 1 / 1.44 + 1 / 2.89 = 1.040
Based on the calculation, we determine the profit for Bet365 = 8.9%, for William Hill = 4.0%, regardless of the outcome of a match.
2.Inversion (L) For Bet365 and William Hill:
Suppose Bet365 is sure Team 1 to win and William Hill is sure Team 2 to win:
L = 1 / 3.7 + 1 / 1.44 = 0.964
Having calculated the inversion, we see that L is less than 1. This means that both bookmakers are suitable for us. We continue further calculations.
3. Let's Calculate the Required Bets.
We have $1,000. Let's calculate how much we need to bet in Bet365, and how much in William Hill:
V1 = 1000/(0.964 x 3.7) = $280 V2 = 1000/(0.964 x 1.44) = $720
To get guaranteed a profit, we must wager $280 on Team 1 (Bet365) to win and $720 on Team 2 (William Hill) to win.
4. Let's Calculate Our Profit.
Now we can calculate the profit from total bets:
If Team 1 wins
P = 280 x 3.7 - (280 + 720) = $36
If Team 2 wins
P = 720 x 1.44 - (280 + 720) = $36.8
Regardless of the outcome of this match, your total winnings will be $1036$. This amounts to a net profit of 3.6% of your $1,000 bet. When placing a bet on the surebet, which we have given an example of, you should take into account that your bank may charge a commission for depositing and withdrawing money (usually no more than 1%), which may reduce the final amount of profit.
Surebet Example
For example, one bookmaker offers @ 2.17 for AH1(-1.5) in Liverpool — Manchester United F.C., and the second – @ 2.31 for AH2(+1.5). Our bankroll for this surebet is €100, €52 of which we bet on AH1 (-1.5) and €48 on AH2(+1.5). Then, let's calculate:
AH1(-1.5) – €52 * 2.17 = €112.84 = €12.84 net income.
AH2(+1.5) – €48 * 2.31 = €110.88 = €10.88 net income.
Thus, regardless of the result of the match, our profit will be either €10.88 or €12.84. All this is thanks to the surebet, on which we have bet.
Use Special Software To Find Surebets
If you use the manual method to find sure bets, then you significantly limit your ability to find really profitable arbitrage situations. It is impossible to cover all the sure bets that exist on the market manually, as it will take too much time to search for them.

Therefore, we recommend you to use BetBurger software for finding surebets. Using our scanner, you will get a number of benefits:
Large selection of surebets with a yield from 2% to 15%;
More than 80 worldwide bookmakers, plus more than 400 clones;
Live surebets that will increase your income and reduce the risk of being detected;
No delays in odds updating;
Everything is automated (search and calculation).
We have prepared a detailed guide on how to bet on surebets using the BetBurger service - link. Check it out!
How BetBurger Surebet Scanner Works
Our BetBurger Scanner is a software that automatically searches for surebets in Premach and Live modes. You just have to place bets!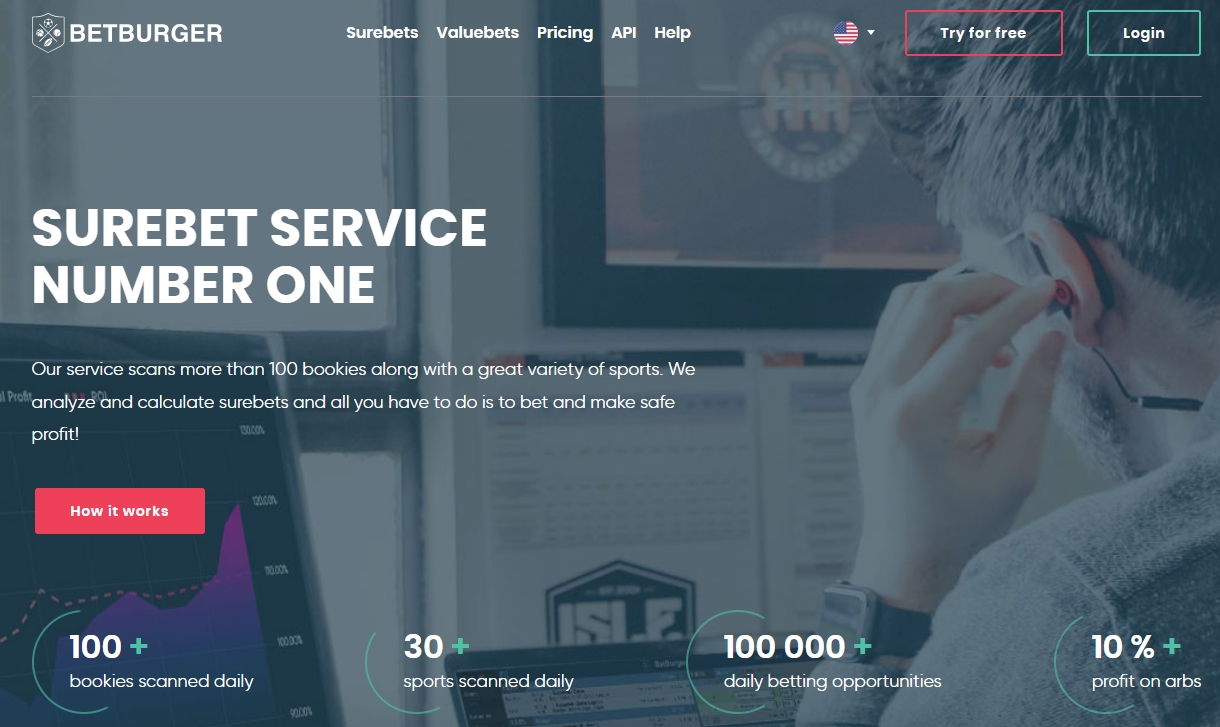 The main principle of the BetBurger scanner work:
BetBurger scans all odds for upcoming sports events across various bookmakers. The whole process is fully automated.
Then the service finds the best odds and performs a mathematical calculation of the surebets.
Shows the most profitable surebets with up to 15% profitability in its web interface for the customers.
All you have to do is filter the necessary surebets by event, bookmaker and potential profit. And place your bets.
The advantage of automated surebet search is minimising the risk of losing bets. In addition, specialized software offers much more surebets than you could find on your own.
How Bookmakers Deal With Arbers
Bookmakers prohibit betting on arbitrage situations (most often this is indicated in their user agreement). To identify a potential arber, bookmakers can resort to various methods and analysis of the player's behavior:
The fraud service of bookmakers pays attention to the amount of your bets. The average bettor usually makes even bets ($100, $150, $300), while the surebettors bets like $184 or $258.
Sometimes bookmakers create surebets falsely. They then look for players who have placed bets on these events. If the bookmaker finds a few more signs of arbs betting by these players, then they cut their maximal bet amounts.
If an arber bets on various sports events, not limited to traditional sports events for their country (for example, a player from Chicago bets on an unknown Japanese league), the bookmaker may raise suspicions and conduct a more detailed analysis.
Often the bookmaker request account verification. The surebettors sometimes provide fake data when registering an account, and to identify such accounts, the bookmaker may ask players to confirm their authenticity by providing documents via video conversation. More information can be found in the related article.
A credit card check is also carried out. Bookmakers only allow the use of a personal bank card, so they have the right to request verification of the player's bank card, including a statement for the last 3 months of all financial operations.
In some cases, bookmakers will require you to verify your registration address by providing them with a copy of your utility bill clearly showing your registration address and your last name.
Bookmakers Use The Following Account Restriction Methods
Cut the maximum bet amount. Thus, it becomes unprofitable for the player to bet on surebets, because. His profit will not cover all existing commissions.
Delete bettor's account. The worst option is to delete your account and freeze all the money on it. This is an extreme method used if you violated the law (registered an account for a non-existent name, used someone else's bank card).
In order to prevent the appearance of surebets, popular bookmakers are looking for abnormal bets. If they find such bets, they make the assumption that this is a surebet. As a result, they reduce the odds, which leads to the deletion of the arbitrage situation.
Read the related article
:
What to beware of arbitrage betting?

TOP 5 Tips For a Newbie In Arbing
Always round up your bet amounts. Try not to bet $193 or $174.5. You need to get used to making rounded bets of $120 or $200.
Try not to withdraw money too often. Usually, the winnings are withdrawn after 10-15 bets and not the entire amount.
Choose 2-4 sports for yourself and bet only on these sports. So you will not arouse the suspicion of the bookmaker's fraud service.
Sometimes place bets on popular events. Even if there is no surebet, still place a bet on a popular event (a small amount).
Be careful. Often, bookmakers throw fake arbs on the market, which leads to the exposure of the arber.
FAQ
What is a surebet?
Surebet (arb) – is a mathematically calculated arbitrage situation allowing making stakes on all the opposing outcomes of the competition in different bookmakers. You earn despite the outcome!
How much can I earn on surebets?
On average, your profit is limited to 5-10% of the bet amount.
Is it legal to place surebets?
Yes, it's completely legal. You are using simple mathematics. But from the point of view of the bookmaker, no, it violates their rules.
Can a bookmaker block my account?
Yes, the bookmaker can block your account. Read more in the
article
.
Used literature, references