In this article we would like to demonstrate you the way our service works and arbitrage betting example. Moreover, it will remove all your doubts concerning safe profit from sport arbitrage.
So let's grasp the idea of arbs and their work by watching the short video about our service.
If you're a newbie and have never used our website, complete the training in the "Manual" section.
Afterwards, you have to figure out For Newbies section before getting to work.
We advise you to acquaint yourself with the articles:
Prematch – tips for beginners.
Live – tips for beginners.
Having considered all the recommendations, you can safely proceed to the bookmakers selection. Here is the complete list of the the bookmakers we scan.
Signing up at bookmakers shops
We've chosen 3 the most popular bookies as an example of betting on Prematch:
— Pinnacle.
— WilliamHill.
— Marathon.
— Unibet.
Eventually, the more bookies you cover, the more profitable arbs you may find.
After presenting the bookmakers all the info they need, you may start distributing your "bankroll" for bets. You have filled up each account for €500.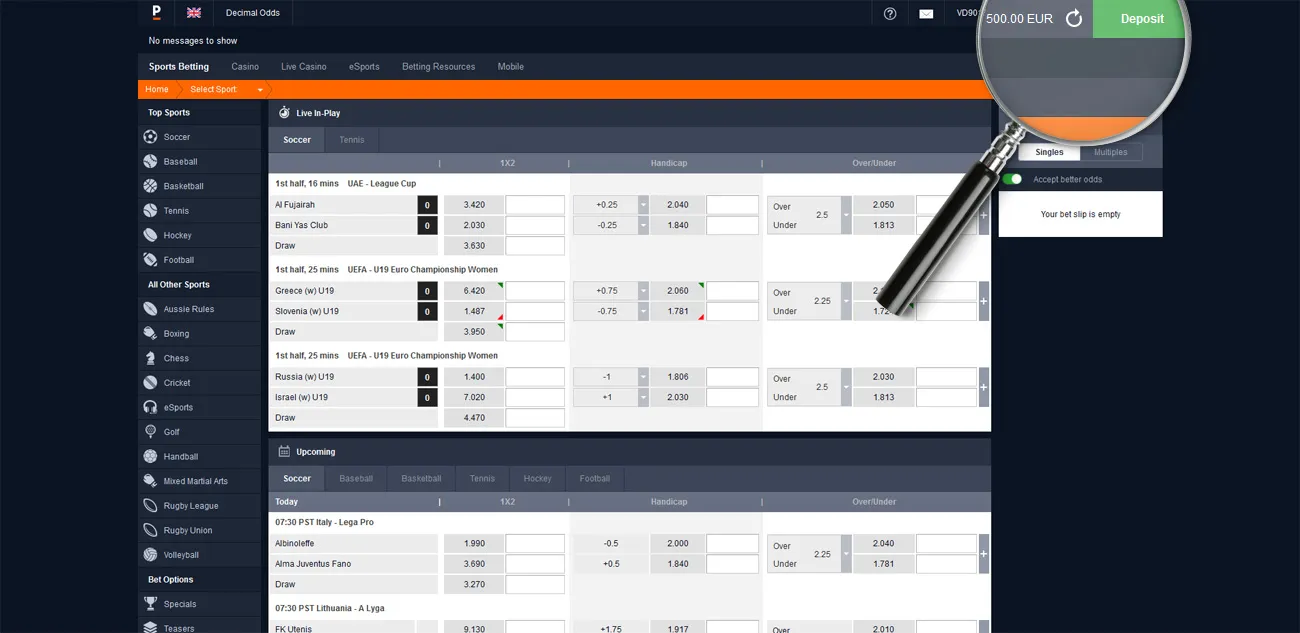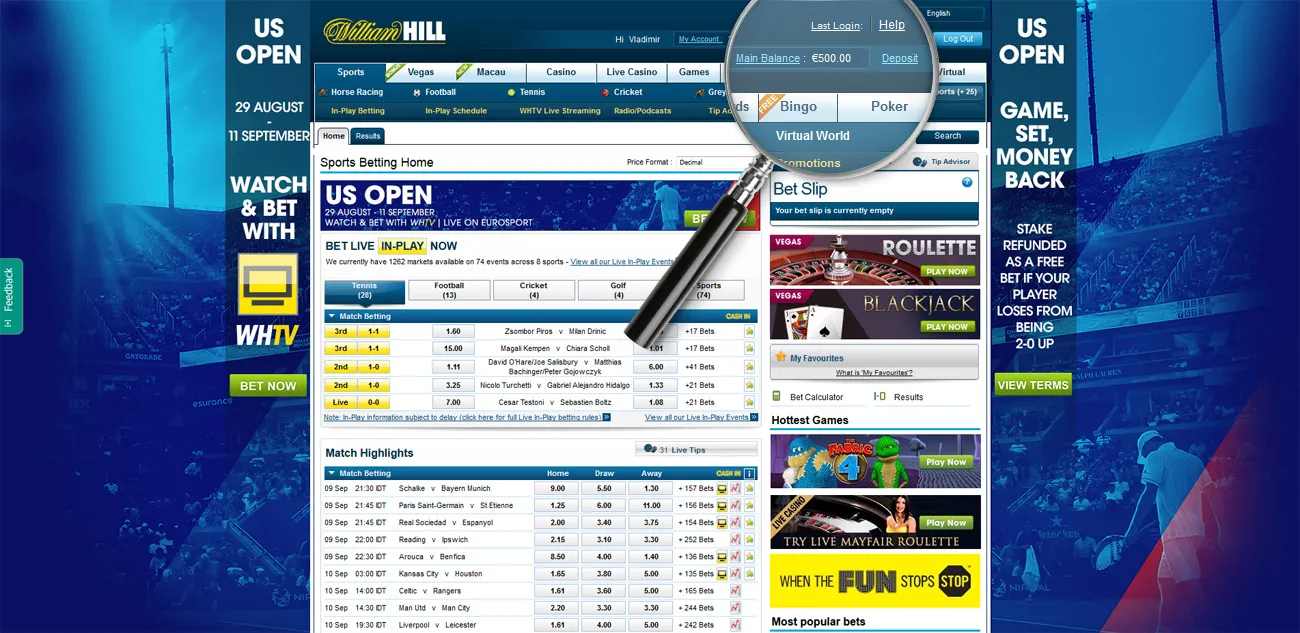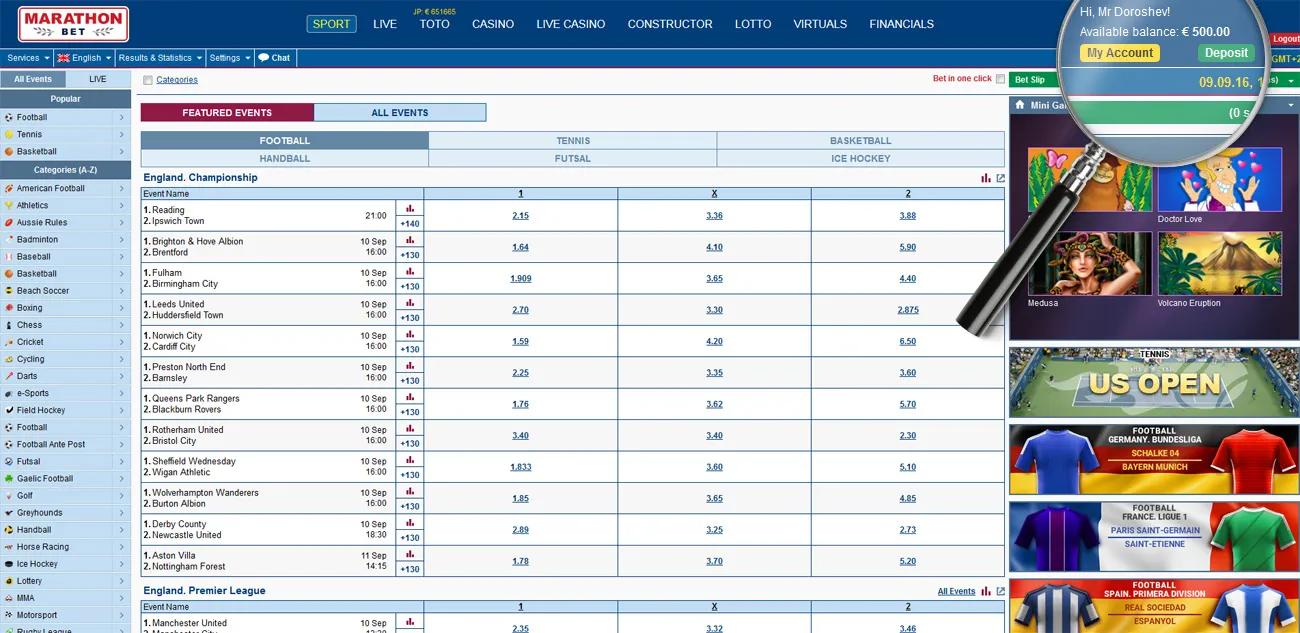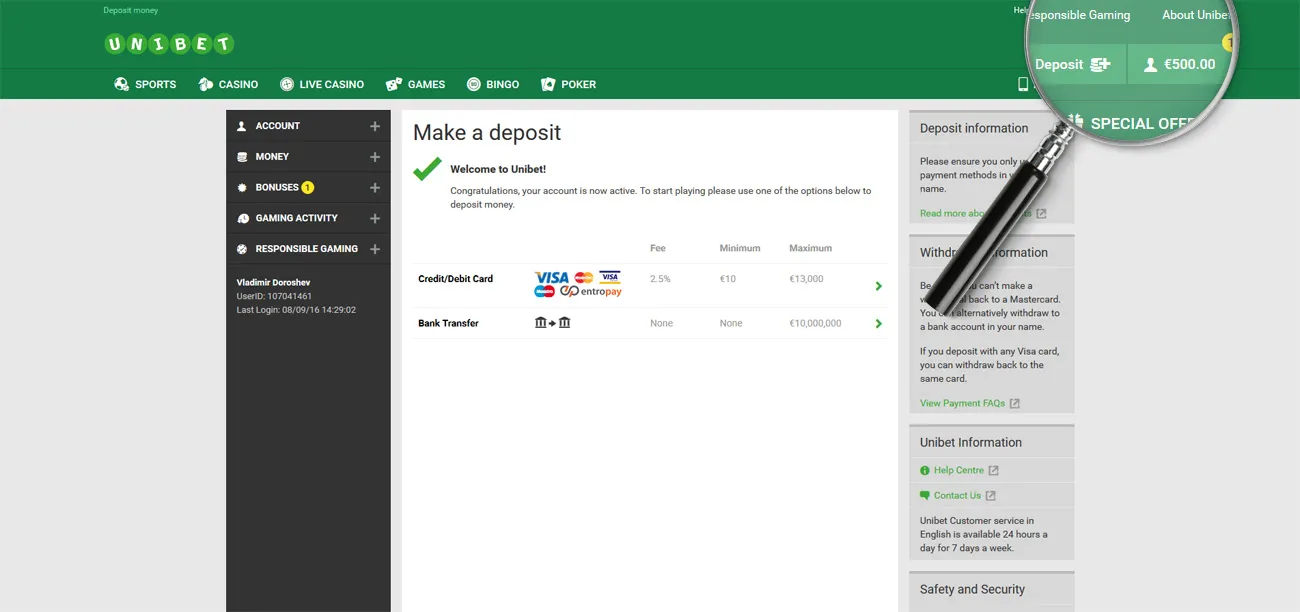 Signing up at the bookmakers, you need to provide only valid data. In certain cases you may be asked to provide some additional documents to verify your account (e.g. utility bill). Remember! Account should always be funded on your own behalf. Otherwise, you may face difficulties in paying out your winning.
Next step — filter customization to search for prematch surebets with certain bookmakers: Pinnacle, WilliamHill, Marathon, Unibet.
Go to "My Account" => "Multifilters", "Prematch" tab => "Required bookmakers". The example is on the screenshot below: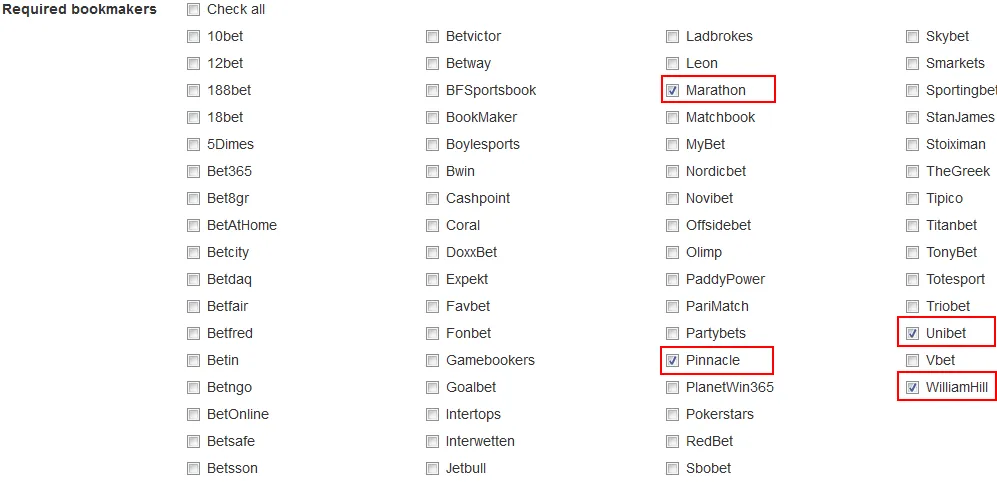 Now, when the settings have been applied, in the layout you will see surebets only with the above stated bookies: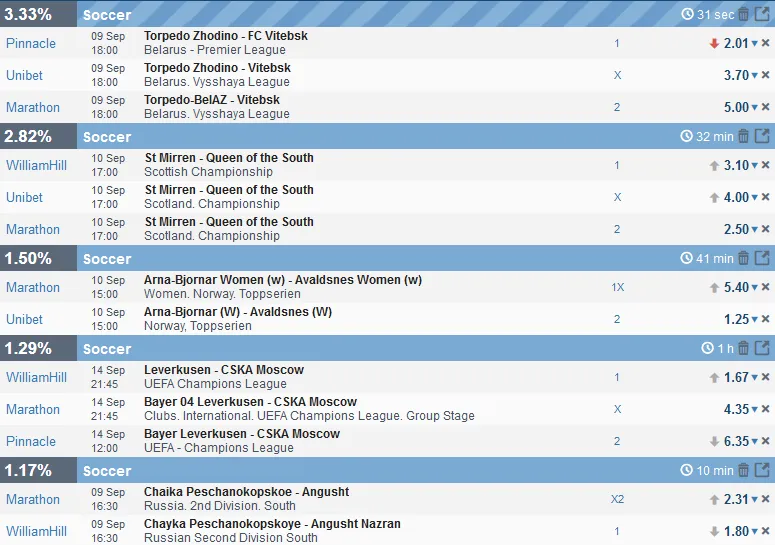 We strongly advise you to avoid betting unpopular matches and prematch surebets with more than 5% yield. Consider this customizing your account settings.
We demonstrate you how to arb on the example of the match Torpedo Zhodino - Vitebsk with 3.33% yield. The total bet is €500 on Win 1 at Pinnacle, Draw X at Unibet and Win 2 at Marathon.
1 – Torpedo Zhodino wins;
X – a draw;
2 – Vitebsk wins.
Click on the arb you need and in the right side of the screen appears calculator to reckon and round your bets:

Insert the value "5" in "Round to". You have to do that to make your bets look more natural. Also you may indicate your bankroll to automatically reckon the bet. In your case, it is €500.
We strongly advise you not to stake the maximum sum of your bankroll (€500 at each bookie; €1500 - total sum). In such a case, all your bankroll will go to the single bookmaker (where the shoulder plays through).
You would have to fill up the accounts again to continue your work. Moreover, it may bring the unnecessary attention of the bookmaker.
Proceeding from the calculator counting we have:
Torpedo Zhodino wins — guaranteed to get €12.55 at Pinnacle. Total profit €512.55.
In case of a tie — guaranteed to get €18 at Unibet. Total profit €518.
Vitebsk wins — guaranteed to get €25 at Marathon. Total profit €525.
Taking bets
You have to go to the events page at a certain bookmaker to bet on the appropriate outcome. It may be done by clicking on the event outcome.
First we bet at Pinnacle on 2.01 Win1. Stake the sum reckoned in the calculator — €255.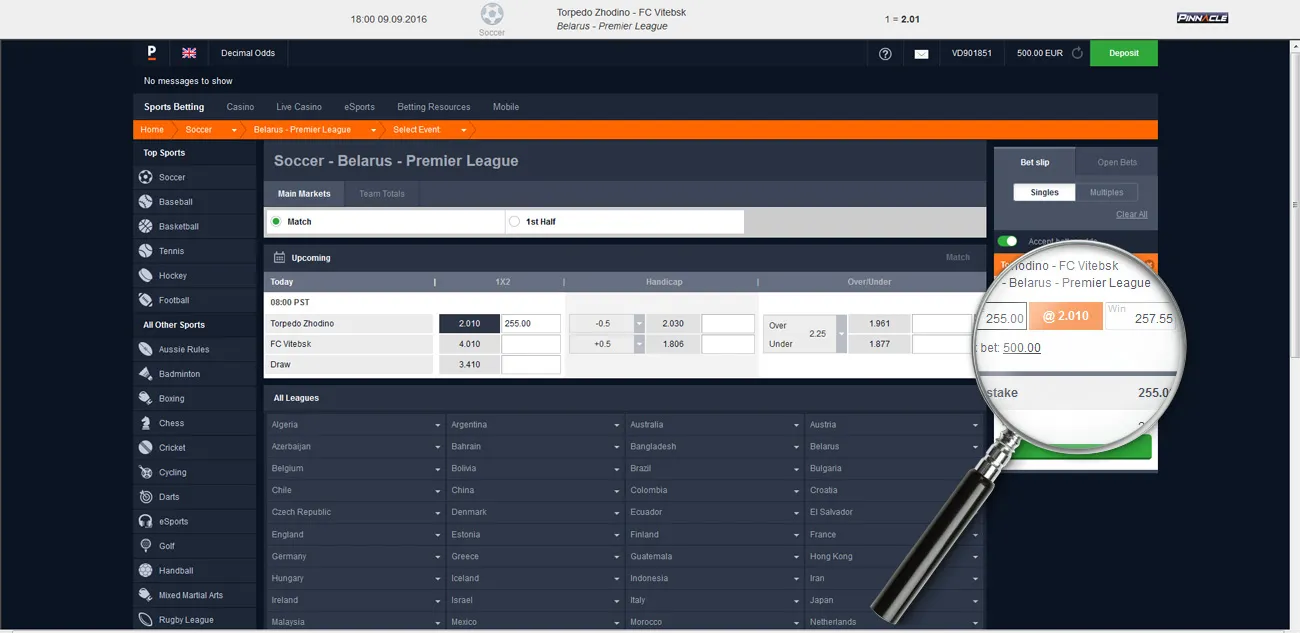 Next bet is at Unibet on 3.7 DrawX. Stake the sum reckoned in the calculator — €140.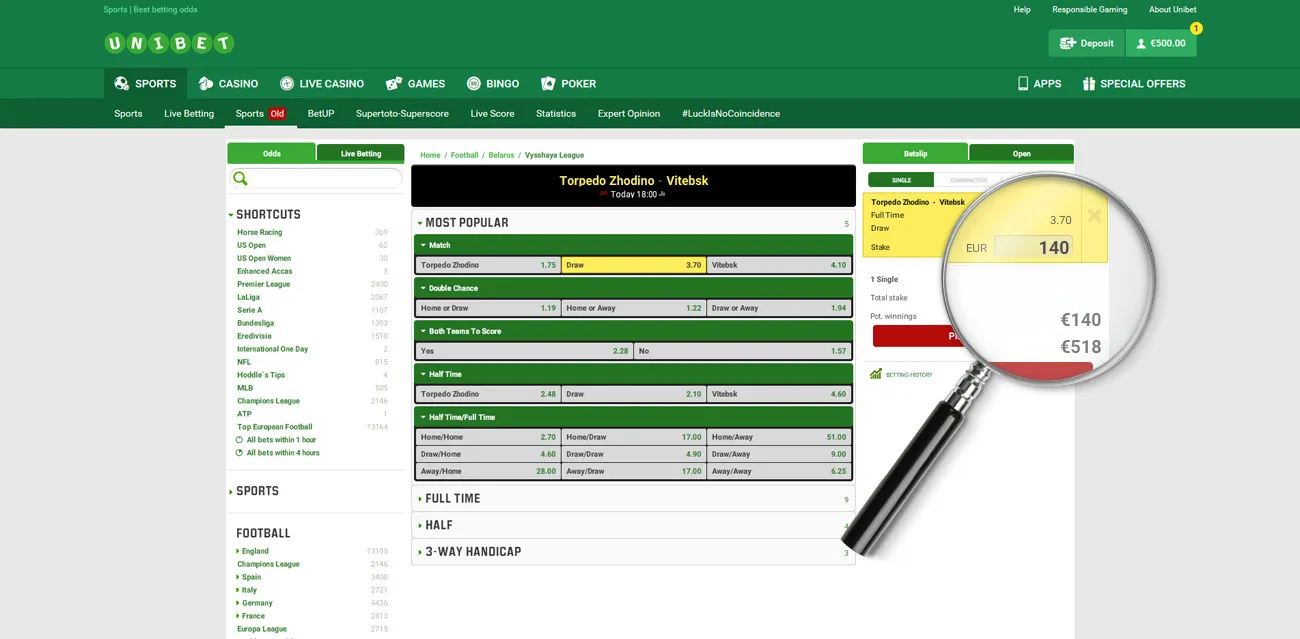 And then bet at Marathon on 5.00 Win2. Stake €105.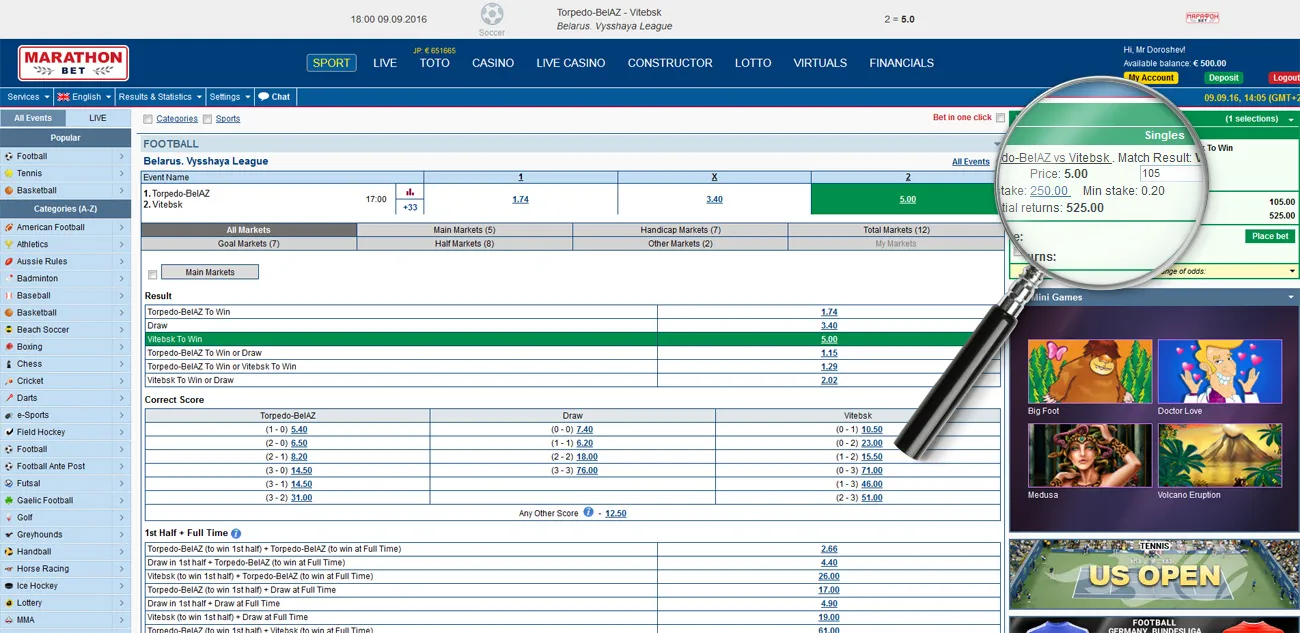 Now all that remains is to wait till the match ends and get profit no matter the outcome.
The Vitebsk team wins! And it means that we earned €25 net profit at Marathon. Total winning amount is €525.
Let's remind that we have bet two more arbs with the total sum of €500. Thus, we have got €26.40 and €17.00 respectively.
Our total income from arbs we've bet is €25 + €26.40 + €17.00 = €68.40 and it's not a limit! You may bet on much more arbs at more bookmakers and with large bankroll!
We advise newbies to start from small sums. That is the reason why we have given the example of the average bank. Experienced gamblers may bet bigger sums. But it should be recalled that there is always the risk of losing your money. Be careful!