Prematch Arbs Tips
We have prepared some helpful sure bet tips and advice for those who is taking his first steps on Prematch. Holding fast to those recommendations, you'll save yourself from common newbies' mistakes.

Let's check out some pros and cons of prematch arbs to succeed in gambling.

Prematch arbs pros:
1. Great choice of events
There is a possibility to search for events that will begin in the near future. Owing to such a variety of competitions, you would always find "unique" arbs to bet.
2. Great variety of surebets
A huge amount of events that will begin in the near future enables us to calculate numerous surebets, which is more than one can say for live.
3. Slow odds change
Odds are changing pretty slowly on Prematch. Thus, it's easy to make all the bets you need in time.
4. Work-friendly
Due to the variety of events, every newbie may find appropriate surebets. Slow odds change would make it possible to think through all the needed stakes clearly.
Prematch arbs cons:
1. High competitiveness
Quite large amount of gamblers works on prematch due to the management simplicity. In fact, it brings to the surebets upload that attracts bookmakers' attention. Consequently, it brings to certain limitations against gamblers: account locking, maximum stake reduction etc.
2. Less profitable surebets
Bookmakers are quite careful on prematch as they have pretty much time to check all the odds. That's why it is very hard to find an arb with yield higher than 10%.
3. Slow bankroll return
You are going to wait for withdrawal for several days if you bet on surebets. This is about the events that are going to start after a while. As it was stated above, prematch processes a great number of surebets because of the variety and slow odds change. We advise you to stick to some tips to find and bet on unique surebets without fear of being limited.
Tune up your multifilter to search for surebets
First and foremost one should do is to correctly tune his
surebet
search filter:
1. Select from 2 to 5 bookmakers. For this purpose go to your Account -> Filters -> Prematch -> Edit (pencil icon):

After clicking you will be taken to the filter page where you may choose the bookies you need from the list: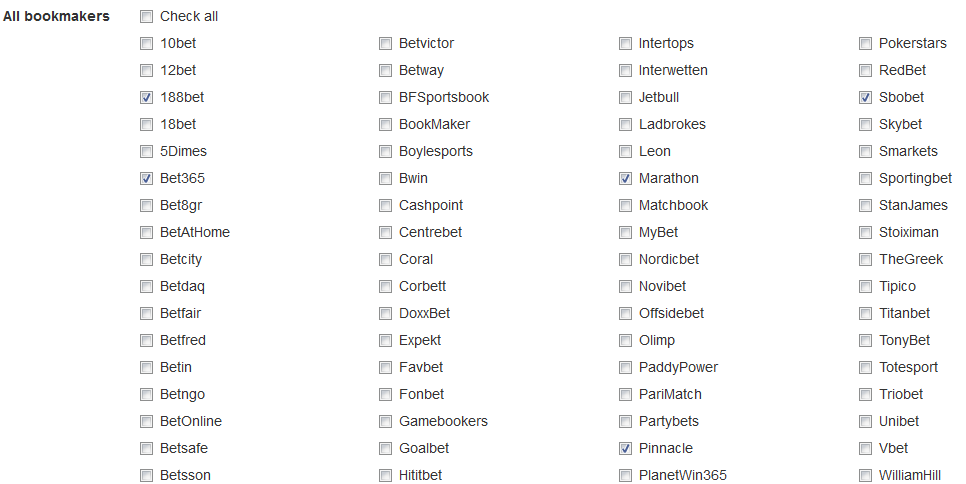 2. Having defined with a choice of bookmakers, select some sports to work on prematch:

3. Enter "Events till" 2 days in order to rapidly return your bankroll:

It will enable you to find surebets that will start not later than in 2 days.
Some surebet tips
1. The first thing that attracts attention to your account is the sum of stake. It is desirable to avoid high and maximum stakes as it would surely raise some suspicion and may lead to account limitation.
2. If after reckoning you need to bet for example $98.37, it's better to round up the stake to the whole number. In this particular case to $100. Probably, you lose a bit of your profit but won't attract too much bookmaker's attention.
3. Do not make request of your bet again, if you have got a confirmation or refusal. The duplicate bets are the right way to turn oneself in. Usual gambler restricts himself to one outright bet.
4. Quite often gamblers are placing stakes on high percent surebet. Remember: the greater the number of stakes on the same arb, the more reasons for it to be checked by the bookie. Try to search for unique surebets. It's easier to manage it with your filter settings.
5. Do not bet on surebets with yield higher than 10%. There are big chances that it would be returned, citing mistakes in the line. You'd be lucky if you have time to close the bet. Otherwise, you may lose your money.
6. Request for withdrawal drags on consequences like account checking. Try to do it not very often or at once after the deposit. Even minor violations may lead to withdrawal refusal till further notice.
7. Avoid betting unpopular outcomes and championships. Because of low number of bets you become an easy target for bookmakers.
Conclusion
Surebet
is a perfect choice for a newbie. However, high competition demands intelligent and measured approach. Stick to our advice and you'll achieve success in gambling!